Smith Bros.
Siding & Windows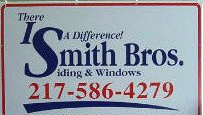 Serving East Central Illinois since 1972.
SMITH BROS. - There Is A Difference!
Here are some commonly asked questions.

Q: Your logo says "There Is A Difference". What is the difference?
A: We feel there are many but probably the most important is the fact that our customers would deal with a close knit family organization with years of hands on experience. Our installation crews understand Smith Bros. dedication to quality and take pride in their work.
Q: How do I clean my vinyl siding?
A: Water sprayed from a hose should take care of most dirt, for more stubborn dirt use a soft bristle brush and some soapy water. Wash from the bottom up and rinse as you go up.Spray your walls down often, it won't hurt the siding and it will keep down the dirt buildup on the siding.
Q: How do I clean my new vinyl windows?
A: Clean your glass as you normally would and use that same damp cloth or towel to wipe down the vinyl parts of the window, inside and outside.
Q: What is a 3 day grace period?
A: This is a state law for in home sales that gives the homeowner the right to change their mind within 3 days after a formal contract is signed and receive any downpayments back.
Q: Are all warranty's the same?
A: A warranty is only as good as the people who stand behind it. This is true for the manufacturer as well as the company who does the installation. Know who you are dealing with on both counts.
More questions and answers will be added to this page at different times.

E-mail us some of your questions and we may add them to this page.

Company Profile | Products | Consulting | Q&A | Photos | Contact Us