Smith Bros.
Siding & Windows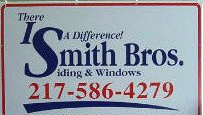 Serving East Central Illinois since 1972.
SMITH BROS. - There Is A Difference!
Smith Bros. offers consulting to Architects and Contractors for special requirements needed for proper and lasting installations. Because of the many years of hands-on experience, we feel we are qualified to offer those opinions and suggestions.
Company Profile | Products | Consulting | Q&A | Photos | Contact Us